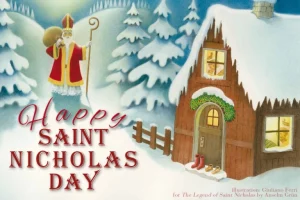 BE A PART OF THE ST. NICHOLAS TRADITION
& Support the MCEP Sculpture Project for Mount Clemens
St. Nicholas Day is an old tradition among the German, Polish, Belgian and Dutch communities throughout the United States. It is celebrated on December 6th each year. On the evening of December 5th, shoes are put outside bedroom doors, or empty stockings are hung by the fireplace or on doorhandles, in anticipation of a visit from St. Nicholas during the night. We invite you to join in this fun tradition and help support the Mount Clemens Art Sculpture Project at the same time!
For $30 MCEP will provide a pair of socks tied with a ribbon suitable for hanging that is filled with seven treats handcrafted from Champaign Chocolates of Mount Clemens. The sweet selections include one each of key lime pie, raspberry white and crème de menthe truffles; an orange peel and a raisin dark chocolate; a white coconut chocolate and ½ square of dark chocolate toffee. Give yourself a seasonal treat, or in keeping with the tradition, secretly deliver this gift to a relative, friend or neighbor for finding on the morning of December 6th.
Orders must be placed by Wednesday, November 30th using the order form below. Pick up your order on Monday, December 5, 2022, at the MCEP office, located at 92 NB Gratiot, in Mount Clemens (across the street from the Post Office).
For further information contact us at 586.783.6008 or email mcep99@gmail.com
All profits support the MCEP 2023-24 Sculpture Project for Mount Clemens.