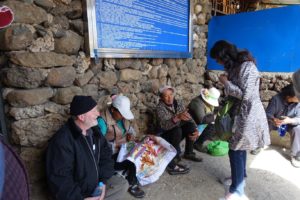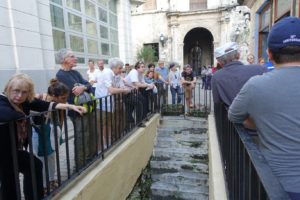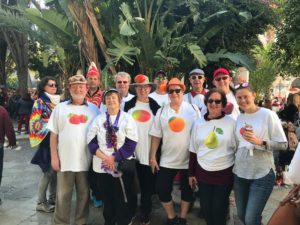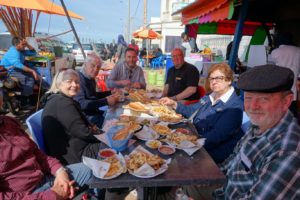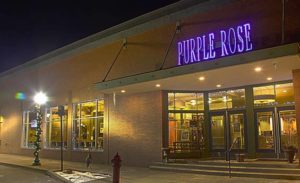 "Traveling leaves you speechless then turns you into a storyteller."
-Ibn Battuta
All of our travel excursions originate with someone suggesting "wouldn't this be a great place to explore" or voicing a wish that they could go see an event. With those promptings, MCEP gets to work to see if there is sufficient interest to make the trip a reality.
MCEP designs each trip ourselves, making use of the knowledge of local, regional and international contacts we have developed over the years. Professional guides are hired to enrich our understanding of history and culture, and informal conversations with friends from the region add a personal dimension to the experience.
MCEP strives to create the travel experience that you want. We do our best to make each trip as individually tailored as possible and structure them so that participants are able to pick and choose which components they want to participate in. Need a day off? Take it. The only mandatory requirements on all trips are that you are at all important arrival and departure points on time and that you are clear about the excursions you want to participate in before we purchase required tickets for the group.
MCEP has experience in traveling with groups of all sizes. Our smallest group was 4 people wanting a guided visit to Barcelona and the Catalonia region. Our largest trip was for 60 U.S. students and chaperones visiting the cities of Beijing, Qufi and Shanghai in China. We're happy to work with everyone.
Local and Regional Travel
We enjoy taking both day trips and short overnight travel to historical, cultural and natural environments. These aim to give you a full experience of sights, sounds, tastes and intellectual curiosity. They tend to be small groups and offer the option of van travel with MCEP staff or you accompanying us in your own car.
Our day trips have included exploring the story of Hiram Walker both in Detroit and Windsor; visiting the Detroit Institute of Arts to view African American collection; and seeing the works of local artists at Midwest Sculpture Initiative in Blissfield MI followed by enjoying dinner and a play at the Purple Rose Theatre in Chelsea MI.
Overnight travel trips have included Niagara Falls for wine tasting and a river ride in the tumult of the Niagara river, and enjoying the beauty of Stratford, Ontario and seeing a play(s) of traveler's choosing. We've also taken long weekend trips to Washington DC to visit both famous landmarks and the hidden sites like the Shakespeare Museum, the home of Frederick Douglass and the Pan American Union. Our van trip to experience the last full eclipse of the sun in the Midwest was for many a once-in-a-lifetime experience.
International Trips
MCEP has escorted travelers to many spots around the world. We've visited Berlin, Dresden and Leipzig; the French Alps and all of Provence; and Venice and all of Vento including Padua and Ravenna. We have explored Barcelona and Catalonia as well as the Basque Country, Madrid and south to Seville. Our travelers have seen the majestic city of Cordova and the citadel of the Al Hambra. Then there was the joy of the carnival at Cadiz. History was brought close to us in the anniversary year of D-Day when we toured Normandy and Brittany. Cuba has also been a destination for us three times as we tried to untangle the U.S.-Cuba relationship and get to know the people, culture and food.
A major focus since we began our travel trips is China. China is a country we need to understand, both its ancient history and the recent history of the last 60 years. China is ever changing and we in the U.S. ignore it at our peril. Traveling with large groups of students and small groups of adults, we have explored the treasures of Beijing, Shanghai, and more.
As we begin the campaign to vaccinate our world against Covid-19, we at MCEP look forward to the day when we can travel safely again. Let us know where you'd like to explore and we'll see if we can't make that happen!