Macomb Cultural & Economic Partnership
MCEP
MCEP Today
Today MCEP works to be a bridge for cultural understanding. Our local, regional and international travel opportunities are designed to expand participants' understanding of other people, places and customs. Promoting understanding can lead to new partnerships, which in turn can help bring about greater economic success for all.
MCEP also focuses on neighborhood improvement as a key to a community's economic success. Rescuing and remodeling a foreclosed building at 92 NB Gratiot in Mount Clemens was the initial step taken by MCEP to improve our community. In 2018 we created a neighborhood conservation corps program that gives jobs to high school students to perform street clean-up in the downtown area during the summer months. Over a dozen students have benefited from this project in its first two years. We were unable to hold the program in 2020 due to Covid-19 restrictions but hope to resume when safe again.
All vibrant communities have art. MCEP now coordinates programs that expand art in our neighborhood. The outdoor Sculpture Project began in 2018 in conjunction with the MI Sculpture Initiative LLC. It is an ongoing project thanks to the generous cooperation of local businesses and sponsors. Mount Clemens Art City was created in collaboration with the DIA in March 2020 and continues through 2021.
All MCEP programming is directed to students and adults alike, and we anxiously await the day we can reengage person-to-person interaction once the coronavirus is under control. We presently engage in programming that is safe and in accordance with CDC and state guidelines.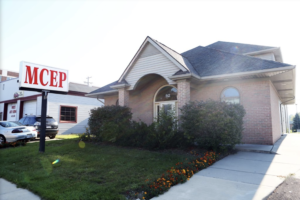 A Volunteer Board of Directors oversees the activities of MCEP
Julie Matuzak, President
Ed Bruley, Secretary/Treasurer
Erik Edoff, Vice-Chair
Paula Drewek, Board Member
Patricia Rabaut Konrad, Board Member
Tim Morse, Board Member